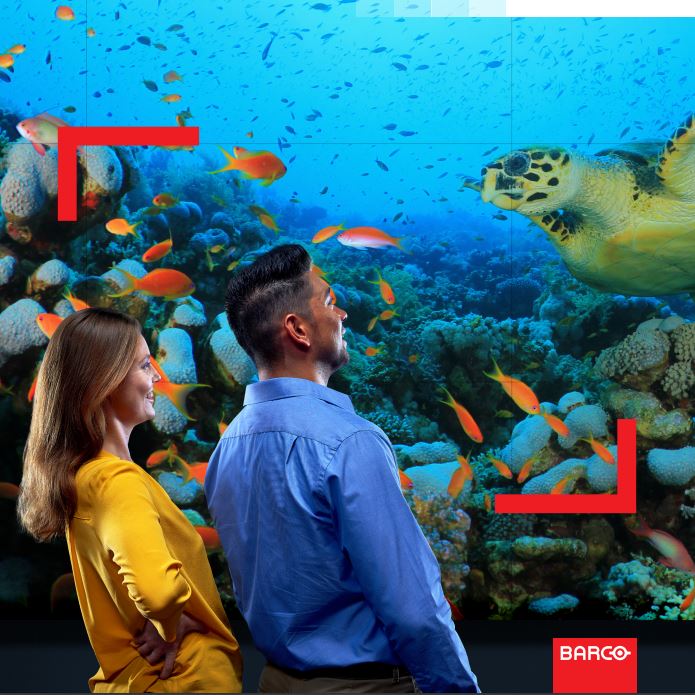 Sometimes a new innovation creates a revolution that reshapes the entire market. With the Barco UniSee® system, Barco completely redesigned and optimized every component of the LCD video wall, resulting in a new way to look at large screen visualization.
When designing the modular Barco UniSee® system, we optimized all aspects of LCD videowalls. By introducing an extremely reliable image,unmatched uniformity, a barely noticeable intertile gap and higher reliability, Barco UniSee® creates a viewing experience never seen before in LCD video walls - making Barco UniSee® the preferred choice in control room, corporate, or retail environments.
Flexibility in any environment
Barco UniSee®'s flexibility does not confine itself to a single market. With its magnificent images, narrowest screen gap and highest reliability, Barco UniSee® matches the visualization needs of many professionals especially in the corporate environment where it is ideally
suited to display compelling content in impressive corporate lobbies, mission critical control rooms, executive board rooms, high-end meeting rooms and many more. Wherever visualization really matters, Barco UniSee® is the best available option.
Corporate Lobby
With the Barco UniSee® LCD video wall, companies can capture customers' attention to corporate messages from the moment they enter the lobby or the company's experience center with a seamless display of dynamic images or infotainment content. Integrating the newest Barco LCD video wall solution in the corporate lobby creates a welcoming and inviting atmosphere, adds ambiance without being overwhelming and significantly reduces the perceived waiting time for visitors in reception area. Barco UniSee® also helps facility managers to build corporate brand image and deliver impressive and compelling content to enhance visual engagement in experience centers.
Executive board room
One of the most important necessities for organizations is an executive board room where top management can accommodate visitors and guests, either through in-person meetings or video conferences. Barco UniSee® is ideally placed to offer visual assistance by providing a seamless viewing experience supporting the most effective management meetings. The Barco UniSee® LCD video wall delivers the finest image quality and highest reliability, and together with the powerful Barco ClickShare CSE-800, it offers the ideal visual solution for the most effective collaboration in boardrooms, high-end meeting rooms and conference rooms.